Cambridge University Press just released a comprehensive book on new interventions for anxiety, OCD and PTSD, Edited by Lara J. Farrell, Griffith University, Queensland , Thomas H. Ollendick, Virginia Polytechnic Institute and State University , Peter Muris, Universiteit Maastricht, Netherlands.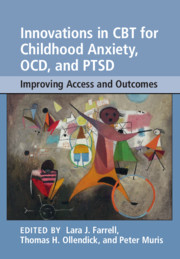 Anxiety, obsessive compulsive disorder (OCD) and post-traumatic stress disorder (PTSD) are amongst the most prevalent disorders in childhood and cause major suffering and impairment if not effectively diagnosed and treated. This book highlights advances in technology and neuroscience that improve the access and outcomes for young people suffering from anxiety disorders, OCD or PTSD.
In Part II – OCD, you cand read a contribution of Kristina Aspvall, David Mataix-Cols, Eva Serlachius and myself on "New Technologies to Deliver CBT for Young Children with Obsessive-Compulsive Disorder". In this chapter we present modern, e-health approaches for the treatment of childhood OCD, including internet-deliverd cognitive behavior therapy (ICBT).
If you are interested in the latest cognitive behavioral interventions for childhood mental health problems, this is probably a good read for you. Available soon at all the major book stores.
'This book is a must for any clinician, student, or scientist working in the field of child anxiety. The editors have recruited a world-class group of authors to provide a truly comprehensive and empirically-informed practical guide to anxiety, OCD, and PTSD in youth. It will occupy a prominent place on my bookshelf!'
Jonathan S. Abramowitz – University of North Carolina, Chapel Hill